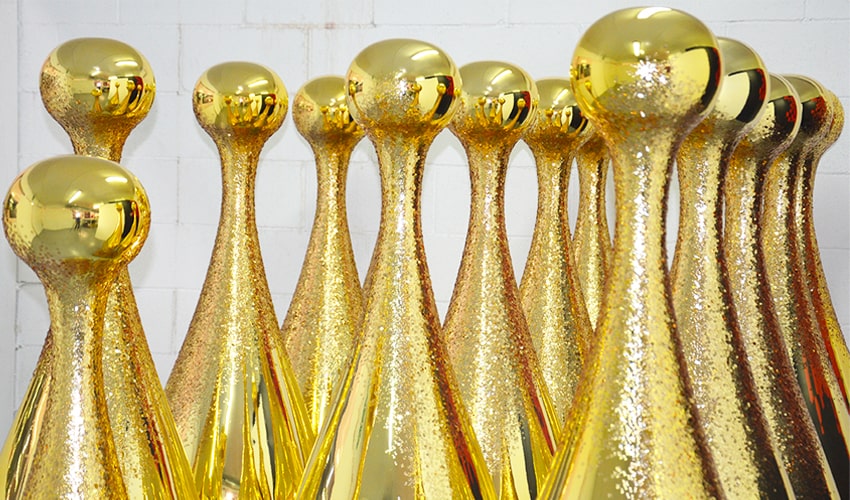 Did you know that big brands such as Coca-Cola, Dior, McDonald's, Louis Vuitton or Volkswagen use 3D printing in their advertising strategies? These are only some examples of companies that see additive manufacturing as a great ally in the marketing sector. The rise of the technology in recent years is highlighting the advantages it offers in all kinds of applications. In particular, the freedom of design, speed of production and ability to create large parts locally makes this manufacturing option very attractive for communication departments within large corporations.
Today, one of the areas most influenced by 3D technologies is marketing. This discipline is defined as the area of market research in which one studies market behavior and identify consumer needs. Being such a broad branch, the use of additive manufacturing can be very varied. The use of 3D printers as a resource can take companies' promotional activities to a new level. Thanks to their production capabilities, more and more companies and brands are experimenting with this manufacturing method for their creative campaigns. By doing so, they demonstrate the added value of having 3D technology to develop their most ambitious projects. In this article we will see the different applications we can find of 3D printing in advertising. From the creation of spots to its implementation in the so-called visual merchandising, through its use in commercial promotion.
Visual Merchandising, POS and 3D Printing
Visual Merchandising is the practice of presenting products at a point of sale in order to maximize customer attention and attraction. This concept is usually especially important to make products visible in the retail trade, and it is carried out according to the strategy and philosophy of the brand itself. For this purpose, different tools and methodologies are used in this marketing discipline, such as spaces, color, lighting, screens, signage, etc.
A clear example of how retailers can benefit from additive manufacturing can be found in Australia. In 2016, the renowned luxury brand Louis Vuitton created the first 3D printed pop-up store inside Sydney's Westfield shopping center. This concept of pop-up stores refers to a trend in the retail sector towards opening sales spaces for a short duration. Omus, the company in charge of the project, took 18 days to print all the decorative components for the 90-square-meter store. Louis Vuitton shared with shoppers that 3D printing encapsulated the brand's innovation and fresh thinking attitude. For his part, Robert Grosso, Chief Innovation Officer at Omus, commented, "Large-scale 3D printing can interpret and bring a designer's visions to life in a way that no other manufacturing method can. Louis Vuitton's audacity and faith also contributed greatly to making it a reality."
But this is not the only case of a company that has turned to additive manufacturing to bring its business to life. In Spain, the company Adaequo is dedicated to the creation of displays and POS (point-of-sale advertising) for the most exclusive brands. It has a 3D printing service that it puts at the service of its customers to open up new worlds beyond advertising. The incorporation of additive manufacturing meant for the company to enter into a new line of business that complemented the 2D display and POS applications it had been offering previously. Some of the most renowned clients that have worked with Adaequo are Dior, Adidas, Carolina Herrera or FC Barcelona, among others.
They are clear that, being able to create pieces adapted to location spaces and with attractive structures, this new way of manufacturing opens up a wide range of possibilities in the field of marketing. Already in 2018, they won an award for their use of 3D printing to perfectly reproduce the Good Girl perfume bottle, from the Carolina Herrera brand. In 2019 they also carried out a campaign for the luxury brand Dior, where they made their famous J'adore perfume bottles. Measuring 1.2 meters (~3'11"), the bottles were made in one piece. For their final finish, they were chromed in "champagne" gold, highlighting the characteristic color of the Dior perfume. In addition, each figure was covered with thousands of sequins, representing the metallic collar of the original bottle.
Both of these applications are made using a large-format 3D printing technology developed by Massivit 3D. Called Gel Dispensing Printing (GDP), this additive manufacturing method makes it possible to create, layer by layer, thermoset parts from materials in a liquid state. The company is popular in the advertising world because its solutions offer a precision and ease of use not possible with other technologies.
Adaequo's website states: "The main advantage of this machine is that it allows absolute customization of POS campaigns, with a piece-by-piece control. It allows to recreate the same figure in different sizes to adapt each of them to the space to be dressed or to make different objects within the framework of the same promotion. With traditional methods, this meant an increase in the price of the campaigns due to the need to produce molds".
How Does 3D Printing Play a Role in Street Marketing?
Among the types of advertising campaigns that exist we can find street marketing. This is as a form of guerrilla marketing that uses non-traditional methods to promote a specific product or service. One of the most notable cases that used 3D printing was the campaign for Angry Birds: the Movie, released in 2016. In order to promote it, the company launched a multimedia campaign in collaboration with several well-known brands. One of the objectives set was to break away from conventional advertising and make consumers remember the movie;ultimately finding the answer in 3D printing. To do this, they produced colorful 3D lettering to be placed on tour buses in San Francisco, New York, Los Angeles and Chicago. The U.S.-based large-format 3D printing company Charisma took on the challenge.
In developing the campaign, they had to combine the segments of visual communication and large-format additive manufacturing. They created the 4.5-meter 3D bus wraps using the Massivit 1800 3D printer to manufacture a mold. The machine uses the company's patented GDP technology and jhas a maximum print volume of 1450 × 1110 × 1800 mm, enabling it to work at 30 times the speed of other 3D printers. In the film campaign, molded plastic sheets were attached to double-decker buses. Some of the pieces integrated lights to make the impact even greater at night. You can watch the video below to see the creation process in detail:
Additive Manufacturing Used in the Creation of Advertising Spots
Another application of 3D printing in the world of advertising is related to the production of commercials. An advertising spot is an audiovisual resource widely used on television, radio or other digital media such as the Internet. But how can this manufacturing technology be part of an audiovisual production? Increasingly, large companies are investigating the benefits of this production method to innovate and get their audiovisual messages to consumers.
An example of this is the case of McDonald's in the UK, with its 2016 "Always Working" campaign. The fast food chain carried out a marketing strategy that used additive manufacturing as the production method for its advertising spot. It used an audiovisual resource known as stop-motion. It is an animation and video technique that is characterized by the capture of still images that, recorded one after the other, give the impression that they are in motion. To achieve this, it was necessary to 3D print 6 sets and hundreds of characters in all kinds of different poses. In this case, material jetting technology was used, which is based on the direct injection of liquid resin into the printing tray and then curing it with a light source. Thus, each of the figures was designed and 3D printed, separating the bodies from the heads. Later they had to be painted by hand. Once the elements of each scene were obtained, they arranged the frames to create the motion effect.
It took the team of fifty people three months to bring this 60-second ad to life. Yves Geleyn, director of the ad, stated, "It's about making something better. McDonald's wanted to communicate that they are always working to make a better Happy Meal, which can be told in a fairly functional way, but we wanted to tell the story with some charm. Today, many miniatures are made with computer-generated imagery (CGI). Stop-motion and 3D printing have an authenticity, a human and technological touch, which adds a lot to a story. It allows you to create something whimsical based on something authentic." In this way, the message of the spot was clear; they wanted to emphasize the work behind each meal through the effort shown in the creation of the spot. You can watch the process of creating the spot in the video below:
Commercial Promotion Thanks to New Technologies
Within marketing, commercial promotion is another branch of advertising that can benefit from additive manufacturing technology. In this aspect we want to refer to all those advertising actions that have a direct and tangible relationship with the consumer. Either through merchandising of the brand itself or actions in which the user is involved in the campaign. Let's see some examples to better understand this application and the role of 3D printing as a strategic tool.
Coca-Cola's subsidiary in Israel came up with a brilliant idea to present its new "mini" size bottles. The world-renowned soft drink producer launched a contest open to the public to create the so-called mini-me (in Spanish, "mini-yo"). It consisted of using 3D technologies so that, with the help of a mobile application, Coca-Cola lovers could design a 3D model of themselves. The winners were rewarded with a visit to the Coca-Cola factory, where they were able to get their respective "mini-me" made by 3D printing.
Another major brand that has taken advantage of 3D technology is Germany's Volkswagen. In Denmark, the company launched the interactive campaign "The Polo Principle" to promote the fifth generation of its Polo car model. In the words of the company: "We take the most advanced technology, the highest quality and make it available to everyone. Every single component of the Polo works to deliver the power of innovation and quality." With this campaign, users were invited to participate in a contest where they created a prototype of the car through a template. Using pre-established tools and icons, hundreds of people were able to visualize in three dimensions how the Polo design would look in real life. Among all the participants, Volkswagen Denmark selected the 40 most creative cars to be 3D printed. Undoubtedly, an original way of making use of additive manufacturing to install the brand image in the minds of consumers.
In this type of application, simpler and cheaper methods, such as resin or extrusion, are often used. This is because the purpose of the parts is not to obtain a perfect surface finish or demanding mechanical properties. The purpose of printed models in this case is to enhance the notoriety and visibility of the company. In turn, this provides consumers with a useful or decorative gadget that they can have that will continually remind them of the brand in question. For this reason, companies do not resort to advanced 3D printing technologies such as those based on polymer powder bed and metal, or injection molding, as the costs increase considerably.
Within commercial promotion we can include the packaging of products through additive manufacturing. In marketing, packaging refers to what surrounds the product itself, from the label to the product data. In addition, packaging can have a communicational or functional purpose. In the case of advertising, 3D printing of packaging has a strictly aesthetic and communicative purpose. This objective is achieved thanks to the design freedom offered by additive manufacturing, even more so when combined with generative design in the conception phase of the final models. By allowing the creation of complex geometries, it is much easier for designers and advertisers to convey their message in an optimal way.
One of these packaging examples can be found in the perfumes launched by Formula 1, the F1 Fragrances Engineered Collection. Their outer structure was made by 3D printing technopolymer resin using only the necessary material. Ross Levogrove, designer and perfume visionary, explains, "My thinking behind the exoskeleton was, on the one hand, sustainability. I wanted to create something that houses the fragrance bottle, which can be replaced once used and reinserted into the exoskeleton, and the use of 3D printing which is extremely efficient, with no waste. Only the necessary shapes are produced, just like an F1 car."
L'Oreal is another brand that is not lagging behind in the adoption of additive manufacturing for product development. In fact, the French company acquired its first FDM 3D printer in 1993 for packaging design and creation. Today, this technology is a fundamental tool for L'Oreal in its marketing strategy. So says Matthew Forrester, Head of Materials Transformation and Recycling at L'Oreal, adding, "We produce prototypes of packaging and furniture, as well as prototypes of point-of-sale models, quality control tools and spare parts for packaging lines in our factories." Anne Debauge, Director of Communication at L'Oreal, adds: "The benefits of additive manufacturing are manifold, both for our internal organization and for the engagement of our employees and our ability to create new experiences for our consumers".
The Future of 3D Printing in Advertising
As we can see, 3D printing has a very important role in the field of marketing and advertising. Today more than ever, companies are looking to surprise their customers through innovation in the way they communicate. Additive manufacturing explores new ways to produce and manufacture locally, in a short time and on demand, thus reducing the final costs of advertising campaigns.
The question now is, does the use of 3D printing influence the impact that advertising campaigns have on users? Well, the answer is not as simple as it seems, since in most marketing strategies it is difficult to measure the actual results. However, one thing is clear: additive manufacturing plays a key role for companies. It serves as a production tool for all the aspects we have seen throughout this analysis. And not just because of its manufacturing speed or its cost reduction. As we have seen, 3D printing also offers a great deal of design freedom that allows advertisers to open up a field of possibilities in terms of creating new communication strategies.
In the not too distant future, we expect to see 3D printing continue its path in this field, climbing towards the top among the technological updates that are emerging. Therefore, it is essential that companies do not lag behind and continue to opt for this type of tool. With it, they will be able to carry out original projects involving the use of 3D equipment.
What do you think about the use of 3D printing in advertising? Let us know in a comment below or on our LinkedIn, Facebook, and Twitter pages! Don't forget to sign up for our free weekly Newsletter here, the latest 3D printing news straight to your inbox! You can also find all our videos on our YouTube channel.
*Cover Photo Credits: Adaequo / Dior

link